TekWay Durability + Interchangeability
All TekWay products are ADA compliant and made with durable material that can withstand different weather conditions, and Colored with a powder coating for a long-lasting, and vibrant, ADA-compliant color. Surface Applied Galvanized Metal Tiles can be easily replaced when necessary, changed out and conformed to fit any surface in a wide variety of applications, like transit platforms, curb ramps, and pedestrian crossing installed for existing structures.d
Compliance
ADA compliant with perfectly defined and dimensioned truncated domes
Color
Durable powder coating provides beautiful, lasting color.
Cost-Effective
Lower cost per tile and cost per installation.
Durability
16 Gauge steel provides the durability you need for existing structures.
Interchangeable
Easily change out tiles in areas that require it.
Existing Structures
The perfect solution when wet-set installation is unavailable.
Federal Metal Colors
TekWay Surface Applied Metal Tiles come in a variety of standard metal colors that will maintain their contrast and alert pedestrians throughout the lifetime of the project.
Federal Yellow - Metal
Federal ID #: 33538
Federal White - Metal
Federal ID #: 37875
Federal Black - Metal
Federal ID #: 37038
Federal Red - Metal
Federal ID #: 31350
Federal Blue - Metal
Federal ID #: 15187
Federal Orange - Metal
Federal ID #: NA
Natural Terra Cotta
Natural Charcoal
Natural Brown
Natural Green
Natural White
Choosing the right type of tile
The type of tile you need depends solely on where you are placing it. Understanding which kinds of TekWay tiles It's important to understand the different types of TekWay tile that will benefit existing infrastructure or new locations is essential to providing physical cues for the visually impaired and remaining ADA compliant — from color codes to durability. Ensure your infrastructure remains compliant through and through. All TekWay tactile walking surface indicators are made out of durable material. Benefit your existing structure and the pedestrians and bicyclists near you with ADA compliant Surface-Applied Metal Tiles.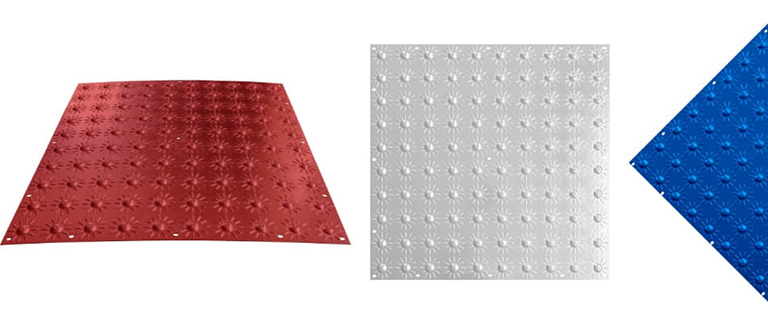 Surface-Applied Metal Tiles
Best option for existing infrastructure
Because of an already existing infrastructure, some tiles cannot be installed using a wet-set. Surface-Applied Metal Tiles guarantee durability over a long time, easy replaceability as necessary, and long-lasting color.
Some tiles can't be installed using wet-set because of an already existing infrastructure. Surface-Applied Metal Tiles are guaranteed durable with long-lasting color that can be easily inserted and replaced if necessary.
Available Colors
(Call for Custom):
Federal Colors, Metal Colors
Standard Sizes
(Call for Custom):
Learn more about our product lines